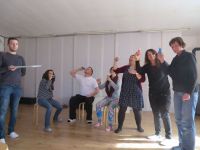 The theater workshop in the Lake Constance Area
Dear theater friends,
Due to our landlord's personal use requirements, we had to move house. Therefore, the theater workshop is no longer available.
Theaterwerk-Bodensee is now situated in Owingen near Überlingen. We are looking for a workshop/rehearsal room in Überlingen. As soon as one is found workshops and rehearsals will be able to continue. Till then we will be working on site only.
Thank you for your patience.
Best Regards
Gabi Gerdau (certified drama teacher)

Links Imprint Datenschutz
© 2019 Gabi Gerdau